High Back Folding Boat Seats
SKU: FS30-200
FREE Same Day Shipping. Order By 4pm EST. Bass Boat Seats in Stock.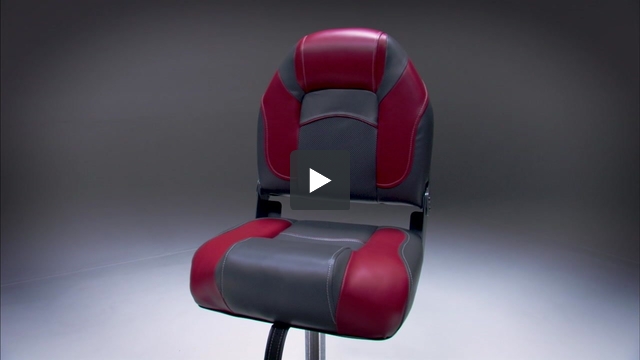 High Back Folding Boat Seat
Pedestal mount boat seat with hold down strap
Boat seat folds flat and can be strapped shut
Factory Grade Replacement Seats
6 year full replacement warranty on upholstery
30oz soft to the touch, marine grade seat vinyl
Pinchless hinges are powder coated aluminum
Heavy duty hold down straps will not stretch or fail
Plastic frames with 100% stainless steel hardware
All mounting hardware is included (stainless)
Installing Your Boat Seats
Hardware Included:
1. (4) stainless steel mounting bolts are pre-installed into the plastic seat bottom.
DeckMate Boat Seats Will Install On Any Pedestal Mount

1.  Remove the temporary plastic edge protectors from the front corners of your new boat seat.  These are installed to protect the fishing seats during storage and shipping.  Simply pull the edges of the plastic protectors and pull the staples out, this will not hurt the boat seat.
2.  Unscrew the (4) mounting bolts from under the boat seat's frame.  
3.  Install the pedestal seat mount to the bottom of the fishing seat's plastic frame using the bolts.  
Note:  Some pedestal seat mounts have a front, check your mount to insure it is installed properly.  Also, start each mounting bolt by hand to prevent mis-threading of the t-nuts that are inserted into the bottom of the boat seat frame.
Our success is tied directly to our ability to provide you with quality products and the best customer service. Quality and excellent service are our top priority!
Industry leading warranty - 6 year full replacement

 

on any defective boat seats. No other boat seat manufacturer offers this level of service because no other manufacturer uses the same quality of materials.
If your boat seats arrive with any defects or quality issues, we will pay to return and replace your pontoon boat seats immediately.
We pay all costs associated with any damaged or defective seating. There is never any cost to you.
100% transferable warranty - if you sell your boat, the buyer is covered. If you're a second owner, just provide us with the original owner's name or order number.
You're making a big investment with your time and money when you choose to restore a pontoon boat. Making sure all of our customers know we will support them after the sale is important to us. We will take care of any problems you have quickly and at no cost to you, as we personally warranty everything we sell.
* For more information about our warranty, please click here or call (877) 295-9522.
Questions & Answers
Have a Question?
Be the first to ask a question about this.
Ask a Question
francisco
from
miami
on
Sep 01, 2017
excelent, product, and specially, the coustomer services, was amazing.

best regards
francisco reyes
Doug Shockley
from
Lafayette,La.
on
Jul 30, 2015
I am restoring a 2009 G3 pan fish boat and have shopped around for new seats and high quality carpet to install in this boat.I was not satisfied by the other seats and carpet that I was looking at and I have a family member that has purchased replacement seats for his bass boat and he was very satisfied with the seats he purchased from Bass Boats Seats , so I decided to purchase everything from them also. The seats are of very high quality and the carpet was better than most new boats that I have seen. I would recommend these seats and carpet to Anyone that needs to replace there worn out items .
Jim Bracken
from
Rockford, IL
on
Oct 30, 2012
Finally found a good seat without spending a fortune. This seat brought a smile to my face right out of the box. An OEM look of real quality. comes with 3 yr warranty has a very sturdy hinge and foam is a little stiff but settles in after a bit. I have had other aftermarket seats in this pricerange and none of them compare to this one. A great value on a quality seat and even got free shipping. Yes!!!